COLIN | Champion Dellevie Torontes CCD RN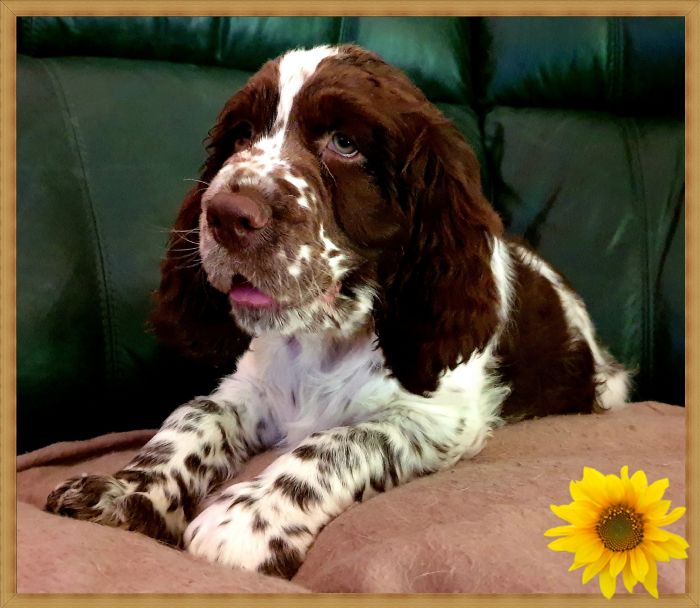 CLICK HIS PHOTO &/OR SCROLL DOWN TO MEET COLIN
---
---
COLIN HAS BEEN TESTED FOR THE FOLLOWING
Alpha Fucosidosis (FS) [DNA tested] = CLEAR.

Phosphofructokinase (PFK) [DNA tested] = CLEAR.

Cone-Rod Dystrophy (Cord 1 PRA/crd 4) [DNA tested] = CLEAR.

Malignant Hyperthermia (MH) = CLEAR.

Acral Mutilation Syndrome (AMS) = CLEAR.

Autosomal Hereditary Recessive Nephropathy (Familial Nephropathy) = CLEAR.

Hereditary Nephropathy = CLEAR.

Black Hair Follicular Dysplasia: Two copies of BHFD Variant detected.

Acral Mutilation Syndrome (Spaniel and Pointer Type) = NEGATIVE/CLEAR




E Locus - (Cream/Red/Yellow): E/E - Dominant black does not carry yellow/red/white.

A Locus (Fawn/Sable;Tri/Tan Points): at/at - Tan points/black and tan or tricolour may be brindled (see K Locus).

K Locus (Dominant Black): K/K - Dominant black - solid (will not be brindled or express Agouti).

D (Dilute) Locus: D/D - no copy of MLPH-D Allele (Dilute) - pigment is normal.

Brown (GLNT331STOP) Stop Codon: Bs/bs - Carrier of Brown/Liver/Red/Chocolate (Stop Codon).
Brown (345DELPRO) Deletion: Bd/Bd - Does not carry Brown/Red/Liver or Chocolate (Deletion).
Brown (SER41CYS) Insertion Codon: Bc/bc - Carrier of Brown/Red/Liver/Chocolate (Insertion).

I Locus Colour Intensity: I/I - No copy of MFSD12 Intensity Allele (not likely to show extreme Dilution).

Shedding (MC5R): SHD/SHD (Low Shedding) - No copies of the Shedding (MC5R) variant detected (refer to R151W (IC) for level).

Curly Coat/Hair Curl (KRT71 R151W): Negative for the KRT71 R151W (CU/CU) variant - not showing the curly coat phenotype.

Coat Composition CFA28 Gene (Double/Single Coat): udc/udc - two copies of the Double Coat (Dense Undercoat) phenotype detected.

Liver [TYRP1] (Lancashire Heeler Type): Be/Be - Does not carry Brown/Liver (TYRP1).
---
☆
CAREER HIGHLIGHTS
☆
(as of 8 September 2023)

AUSTRALIAN CHAMPION TITLE 2021
2x TRIAL TITLES (CCD/RN)
2x BEST EXHIBIT IN SHOW (BIS 1st)
10x RUNNER UP BEST EXHIBIT IN SHOW (BIS 2nd)
24x BEST EXHIBIT IN GROUP (Group 1st)
26x RUNNER-UP BEST IN GROUP (Group 2nd)
#1 GUNDOG NT DOL POINTSCORE 2021
ROYAL SHOW BEST EXHIBIT IN GROUP (BIG 1st)
MULTI ROYAL SHOW BEST OF BREED
2x SPECIALTY CLASS IN SHOW
SPECIALTY SHOW BEST OF BREED
29x CLASS IN SHOW AWARDS
74x CLASS GROUP AWARDS
MULTI TRIALS WINNER
MULTI BEST OF BREED
MULTI-DOG CHALLENGE
MULTI BABY PUPPY OF BREED
MULTI TRIAL 1st PLACINGS
---
We are thrilled to introduce Colin (the snoodling), to our little Springle pack & with his impeccable bloodlines, we hope that he will be successful in both the Show Ring & the Trial arena. He has already enriched our lives & made us smile with his full-on Springle antics! He has slotted into our lives with complete ease & has a new best mate in PrincESS Lily! A right pair of terrors they are together!
A huge thank you to his breeders, Matt & Camille Lawson in Victoria, for considering us & allowing such a beautiful Puppy to join us here at RHEGED. We are thrilled to bits & can not wait to exhibit & compete with Colin. We hope we will do him, you & his illustrious ancestors proud as we embark on our exciting journey ahead!
---
All content copyright © 2015
MBIS MRUBIS Champ Dellevie Torontes CCD. RN.
"Colin"
View More Details
Contact Details
Nicola & Peter Jones
Berry Springs, NT, Australia
Email :
[email protected]