RHEGED | Health issues that can effect WSS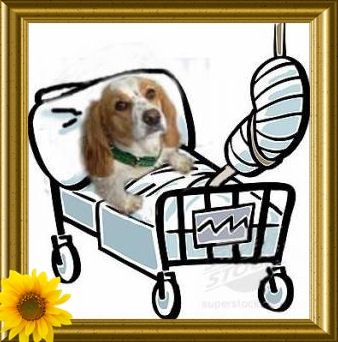 ---
Welsh Springer Spaniels are generally healthy & very robust, but like ALL other breeds, they are prone to certain health conditions. NOT ALL Welshies will get any or all of these diseases, but it is important to be aware of them if you are considering this ancient breed.
The Welsh Springer Spaniel Club UK
---
For further information ~ RHEGED | Understanding Genetics & Test Results page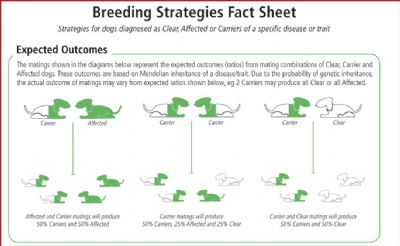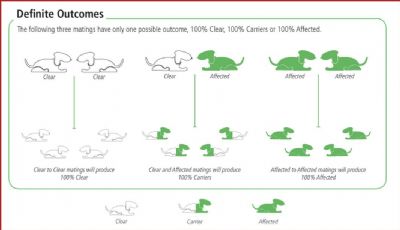 ---
WHAT IS GLAUCOMA?
Glaucoma is an increase in fluid inside the eye, which leads to damage to delicate structures within the eye which may eventually lead to blindness, following swelling of the eye. In its acute form glaucoma is painful, but in all types it is the effect on sight through destruction of the optic nerve that represents its most important feature.

Two (2) forms of glaucoma are considered to be inherited in the dog: open-angle glaucoma (very uncommon in the dog) & angle-closure glaucoma. The latter form is considered to be inherited in the Welsh Springer Spaniel. In angle~closure glaucoma Goniodysgenesis ~ characterized by non differentiation of the Pectinate Ligament & a narrowed drainage angle ~ predisposes the patient to acute onset of the disease, usually in middle-age.

THE ONSET OF GLAUCOMA IS A MEDICAL EMERGENCY
WHAT TREATMENT IS AVAILABLE?

Realistically, treatment is often unrewarding but if the pressure can be kept within normal limits, the progression of the condition may be halted for considerable periods. Medical treatment, in the form of eye drops applied daily, is usually the 1st choice but surgical procedures are also available. These procedures are aimed at increasing the outflow of fluid from the eye, but there may be complications which require further surgery. Research continues into appropriate & successful methods of controlling this distressing condition.

IS GLAUCOMA INHERITED?
There is some evidence to suggest dominant inheritance, from a paper by Dr. Keith Barnett, & Beverley Cottrell of 1988. The Joint Health Group initiated an investigation into the incidence of pre-disposition in the Welsh Springer Spaniel in 1996 and 100 to 150 dogs were tested by Doctors Keith Barnett, Ian Mason & Beverley Cottrell, the object being to ascertain information about the incidence of abnormal drainage angle anatomy in the breed. It is apparent that there is a breed incidence of glaucoma in the Welsh Springer Spaniel & this problem is linked to abnormal drainage angles formation. Work in other breeds has shown that abnormal drainage anatomy is inherited and that severe forms of abnormality predispose to glaucoma development.
CAN MY WELSHIE BE TESTED FOR THIS CONDITION?
Yes. Fortunately, the goniodysgenesis can be identified at an early age by gonioscopy, and as
such predisposed animals can be screened out of breeding programmes. Contact should be made with an Eye Specialist, via your own Veterinary Surgeon in the first instance. A few drops of local anaesthetic are applied to the corneas of the eyes to be examined & then a special type of contact lens is applied to the eye, permitting examination of the drainage angle of the eye, with either an ophthalmoscope or a camera.
The problem facing breeders & eye panellists is that we cannot at the moment predict with any certainty what degree of Goniodysgenesis places a dog at significant risk of developing clinical disease. The eye test allows only 2 categories ~ 'pass' or 'fail'. An objective method of assessing the angle is difficult & has led to apparent inconsistencies. The object of the investigations under way is to arrive at a practical consistent method of diagnosis & to be able to give rational breeding advice.
To put this into perspective there are very few known cases of Glaucoma currently in the Welsh Springer Spaniel, & it is very easy to have your dog tested for the condition as early as 6 months of age, when, if the animal is found to be pre~disposed, a decision can be made to breed or not to breed from it, which may help to reduce the incidence of the condition in the breed. It should be pointed out here that the pre-disposition DOES NOT MEAN that your dog will develop Glaucoma, in fact it really is quite unlikely bearing in mind the numbers currently known in the breed. However, it is known that pre~disposed animals may pass the condition on to their pups.

NB: A 'PASS' DOES NOT MEAN YOUR DOG WILL NOT DEVELOP GLAUCOMA

ANATOMY OF THE EYE & THE DRAINAGE ANGLE: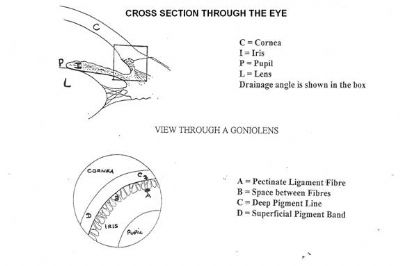 The drainage angle (or iridocorneal angle) is formed by the iris & cornea. Aqueous (the fluid inside the eye) is produced at a constant rate, & in a healthy eye drains out through this angle into the veins around the eye. In the normal eye, production & drainage of fluid occur at the same rate, keeping a constant pressure inside the eye. In the dog, abnormality of the pectinate ligament (which spans the angle) can lead to impaired drainage. This leads to an increase in pressure, as aqueous continues to be formed at the same rate. This abnormality can be detected by looking at the drainage angle through a goniolens, and is termed Goniodysgenesis.
(Beverly Cottrell 2010)
---
~ EPILEPSY ~
Epilepsy is not a single condition. It is a term used to describe recurrent fits, seizures or convulsions.
WHAT SIGNS SHOULD I LOOK FOR?
The symptoms vary with the severity of the seizures & range from un-coordinated movements to the dog collapsing with rigid leg movements and salivating excessively. The dog may also lose control of it's bowel & bladder. Attacks may last a few seconds or longer an the dog may appear unconscious. In very severe cases, the dog has 1 fit after another ~ this is called 'status epilepticus'.
WHAT IS THE USUAL AGE FOR THE PROBLEM TO APPEAR?
The onset of Primary Epilepsy is usually between 1 & 3 years of age but this is only a guide & cases do occur earlier & later; up to around the age of 5 years.

WHAT CAUSES EPILEPSY?
SECONDARY EPILEPSY: This describes those cases where a cause such as trauma, brain tumour, liver disease etc. is diagnosed.
PRIMARY EPILEPSY: In cases where no apparent cause is found then the term 'idiopathic' or primary epilepsy is used. In these cases the dog's genetic make-up is such that they have spontaneous seizures. In Primary Epilepsy, the 'faulty' copy of the gene must be inherited from the father & mother.
IS THERE ANY TREATMENT?
Control of fitting is by the use of drugs e.g. One commonly used is pheno~barbitone. The vet will endeavour to find a dose that will control the fitting but enable the dog to live a normal life.

HOW DO I ENSURE THE PUPPY I BUY WILL NOT 'FIT'?

Unfortunately ~ this is not possible at the moment. Primary Epilepsy is thought to be an inherited condition caused by a recessive gene or genes. At present there is no conclusive test for the presence of this gene or genes in individual dogs.
WHAT IF MY DOG STARTS TO FIT?
Contact your vet for the appropriate treatment. Also contact the breeder of your dog: They will want to be aware of the problem and will forward all relevant information to the relevant research group in your area.
THE DOG WILL NOT SWALLOW ITS TONGUE, SO PLEASE KEEP YOUR HANDS AWAY FROM ITS MOUTH.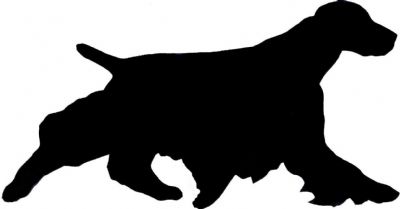 |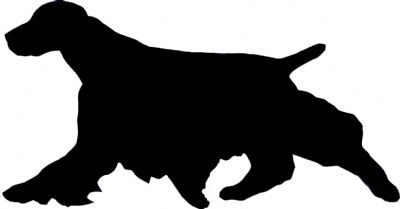 Without a doubt, this is the most distressing time for the owner, as a seizure can often be both frightening to watch & emotionally overwhelming.

INVESTIGATION OF PRIMARY EPILEPSY IN THE WSS:
Research at the Animal Health Trust & other institutions as part of the Canine Genome Project has produced a genetic map for the dog. Information from markers on this map will help the study of canine genetic disorders. By this means ('DNA fingerprinting') it is hoped to pin~point the genes involved in Epilepsy. A blood test might then be produced to identify carrier dogs before breeding. For many years blood samples, or cheek swabs, taken from fitting Welsh Springers Spaniels & their immediate family have been sent to the AHT for inclusion in this work. Owners of 'fitting' dogs, their parents & siblings, are strongly advised to submit cheek swabs to the AHT.

BREED GUIDELINES:
It is recommended that parents of known 'fitters' should not be bred from again & that extra care needs to be taken when breeding from the siblings of fitters. The Joint Health Group has compiled a list of matings that have produced fitting puppies. This has been published in the current Year Book of the WSS Club & the Newsletters of the other Breed Clubs around the world.

For further information ~
Canine Epilepsy
---
~ HIP DYSPLASIA ~
WHAT IS IT?

For further information ~ Hip Dysplasia fact sheet (PDF)
Hip Dysplasia (HD) is a malformation of the hip joint ('dys': meaning bad & 'plasia' form)
The hip joint is a ball and socket joint, the ball being the femoral head, & the socket the acetabulum.
WHAT SIGNS SHOULD I LOOK FOR?

The symptoms may include: sitting awkwardly, with the weight of the body being taken by the forequarters, a reluctance to rise from the sitting position, floppiness in the hind legs when moving, moving with a sawing gait or 'bunny~hopping' when trotting, resting during a normal distance walk.
Sometimes at a walking pace, a dog will show a marked sway & the pelvis appears to rise and fall with each step.
WHAT IS THE NORMAL AGE FOR THE PROBLEM TO MANIFEST ITSELF?

HD is usually observed between 4 and 6 months of age when the rate of development of
the puppy is at its most rapid. It progresses significantly between then and 18 months of age, with most of the changes developing before 2 years old. In adult dogs, the changes that began in early life may result in hip arthritis in middle or old age. The dog may then become lame even though no signs were noticed when it was a puppy.

WHAT CAUSES HIP DYSPLASIA?
Genetic & environmental factors influence the development of Hip Dysplasia & affect the final degree of lameness & disability: The genetic mode of inheritance of HD is polygenic (multi~gene)
The environmental factors of most importance are:
Feeding a correct diet that allows the puppy to grow at a steady pace. The puppy or dog should not be allowed to get fat. If a puppy is excessively heavy at a young age, it can lead to overloading of the soft cartilage of the developing joint & resulting deformation.

Over exercise of dogs with unstable joints will exacerbate any wear & tear of the hips. Exercise should be restricted in young dogs, particularly those with hip problems.

Floor surfaces should not be slippery, & puppies should not be allowed to climb stairs or steps.
IS THERE ANY TREATMENT?
There are many courses of action that your Veterinary Surgeon may take. Almost certainly, he or she will take an X~Ray of the hips to ascertain the degree of dysplasia in each hip (It may not be equal).
Rest & anti~inflammatory drugs will often help dogs showing pain after exercise. He or she may prescribe pain killing drugs, & if necessary others to help if arthritis proves a problem in later life. In very severe cases, the Veterinary Surgeon may consider amputation of the femoral head &/or a total hip replacement.

WHAT IF I SUSPECT MY DOG HAS HIP DYSPLASIA?
Contact your Veterinary Surgeon & the breeder of your puppy for advice & support.

NORMAL HIP JOINT ~ (Picture ~ left)

Showing smooth, rounded hip joint. Socket here is very shallow w

ith more than 50% of the head of the & severe luxation is apparent.

Thigh bone fitting inside the hip socket. This hip would score very well.

Perfect hips would score 0/0.

SEVERE HIP DYSPLASIA ~ (Picture ~ right)

Socket here is very shallow & severe luxation is apparent. This hip would score a very high figure result ~ which is NOT good.
DOGS WITH CLINICAL HD SHOULD NOT BE BRED FROM

HOW DO I ENSURE THE PUPPY I BUY DOES NOT HAVE HIP DYSPLASIA?

The short answer is ~ you can not. Hip Dysplasia is a most complex subject. You can help by selecting from animals that have good hips & by ensuring the environmental factors above are adhered to. It is advisable for you to acquaint yourself with the status of hips within the breed, & to consider purchasing from a breeder who can supply details of the dogs in their kennel.

WHAT ABOUT ROUTINE HIP X-RAYING?

Australian Veterinary Association practitioners can X Ray & 'hip score' dogs reliably ~ 18 months is a good time to do this. Each hip is scored under 9 predetermined criteria. An excellent pair of hips would score 0/0, and the worst possible score is 53/53 (total 106).
---
All content copyright
© 2015
Contact Details
Nicola & Peter Jones
Berry Springs, NT, Australia
Email :
[email protected]