PONGO | Twickenham CCD CD RN RA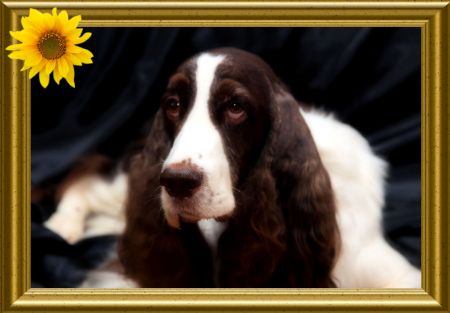 SCROLL DOWN TO MEET OUR BEAUTIFUL PONGO DOG
~ The Springer Spaniel with the 34" plus ear span. Our Hollywood dog ~
---
---
☆
CAREER HIGHLIGHTS
☆
(a
s of 7 June 2014)
2 X 'BAJ' GUNDOG WORKING TEST AWARDS
RALLY ADVANCED OBEDIENCE TITLE (RA)
RALLY NOVICE OBEDIENCE TITLE (RN)
COMMUNITY COMPANION OBEDIENCE TITLE (CCD)
COMMUNITY
OBEDIENCE TITLE (CD)
MULTI GUNDOG WORKING TESTS
---
Twickenham RA CD: 23/07/2004 ~ 19/11/2018

He has gone. Our hearts are quite broken. Oh so missed ..... our darling Pongolings.

Our beautiful Pongo dog has left us to cross the Rainbow Bridge. Safe journey our special friend, we were so privileged to have you in our lives - the most gentle soul we have ever met. We are missing you terribly. Until we meet again - farewell my old friend. Now reunited with your brother Austin.
---
Although not on the ANKC 'Main Register', Pongs is extremely well-bred & he must be the world's best ambassador for the English Springer Spaniel breed! A more people-friendly, happy, clever, intelligent, or loving Springer was never found!
His sole purpose on this planet is to bring great joy to people's lives & make the world smile ~ something he does naturally, and easily & it is always delivered with much love, of course, his rewards are the cuddles & treats he receives in return!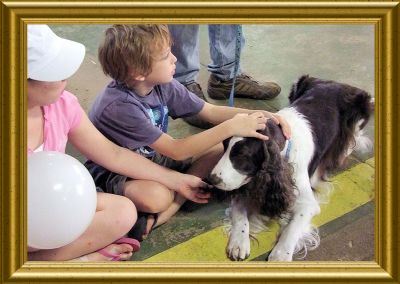 ~ Pongs doing what he does best! Meeting & greeting members of HIS public ~
He has done just about everything ~ won Obedience trials, Jumping Dog Trials & twice winning 'Gundog Working Tests' ~ scoring 98/100 in the NT's very first GWT ~ a feat never beaten (& it never will be as the ANKC has now replaced the GWT with RATs). As Pongo was the NTs very first GWT winner & qualifier, AND then backed it up a few years later to become the very last Gundog to qualify & win a GWT in the NT ~ Pongo got to retain the beautiful 'BAJ' Perpetual trophy ~ a lovely silver plate that is proudly displayed along with his many other awards, trophies & spoils of war in our home.
He has been an Obedience display dog & an Agility/Jumping Trials demo dog at many Public Expos, he even has his own fan club on 'Dog Book' (filled with the many friends he has made on his travels), he has also appeared on TV & he was even TV celebrity Vet Dr. Harry Cooper's demonstration dog at the Royal Show.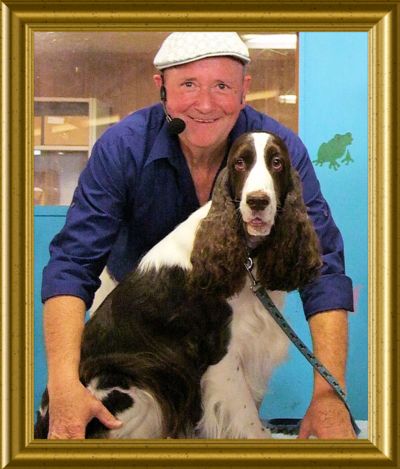 ~ Twicky giving a dog care display with TV celebrity Vet Dr. Harry Cooper ~
Simply put, Pongo is a special & very precious little Spaniel! Everybody LOVES him, he will happily tolerate little kids crawling all over him, pulling his famous ears ~ because he just has to 'give'.
He is a very much loved, appreciated & adored member of our family ~ we have never even seen him growl, snarl or even be sad or sulky. He is just simply glorious!
If you see him at an event ~ please come over & say 'hello' to him. In fact ~ he would be very upset & disappointed if you didn't!
Oh! He isn't called 'Pongo' for nothing! Without his weekly bath ~ he somehow ~ always manages to end up smelling like sweaty old socks (just don't tell him though)!
---
All content copyright © 2015
Contact Details
Nicola & Peter Jones
Berry Springs, NT, Australia
Email :
[email protected]